No blog posts yet, check back soon!
Need a Computer Whiz?
Visit Our Shop For Computer And Tablet Services
Is your computer is slowing down and you don't know why? Maybe it doesn't have enough RAM to run your applications. Perhaps you've inadvertently downloaded Malware. Or maybe your computer is simply outdated. Personal Computer Services can help you analyze and determine what's wrong with your computer or tablet. Then we can make the necessary repairs or updates to get you functioning again. Or, if all else fails, we can help you find a new computer altogether.
Contact Us at 607-433-7272 to find out about the computers and tablets we have available.
4 Reasons To Visit Personal Computer Services
At PCS, we know there aren't a lot of computer geniuses out there. We also know that computer terminology can get complex, and hard to understand. That is why we are here. Count on us for services and guidance regarding the operation of your tablet, laptop, or desktop computer. Here are a few reasons to stop by our store:
Trade in your old tablet for a more recent model
Purchase a laptop for school or a new business venture
Recycle your unused devices
Talk one-on-one with our computer experts so they can explain the details in simple human terms!
Dial 607-433-7272 to learn more about our computer repair and device sales services.
Work With Computer Repair Specialists In Oneonta, NY
Personal Computer Services is a computer repair shop and retailer located in Oneonta, NY. We have years of experience in telecommunications and computer repair, and are dedicated to helping you improve productivity in your home or workplace. PCS can help with things such as wired and wireless networking, device analysis and repair,  and computer sales solutions. We are partnered with Microsoft and Cisco to bring you the best products on the market. We are also proud to participate in device recycling to safely remove e-waste.
Choose Personal Computer Services to assist you with your computer, tablet, or network-related needs.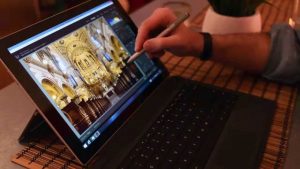 PCS DEAL OF THE WEEK! (Microsoft Refurbished)  SURFACE PRO 3 W/SURFACE PEN ***$179.00***!!!! (Yes way!)
CPU: 1.9GHz Intel Core i5-4300U (dual-core, 3MB cache, up to 2.9GHz with Turbo Boost)
Graphics: Intel HD Graphics 4400
RAM: 8GB LPDDR3
Screen: 12-inch, 2160 x 1440 multi-touch (ClearType, 3:2 aspect ratio)
Storage: 256GB SSD
Ports: One USB 3.0, Mini DisplayPort, microSDXC card reader (up to 128GB), headphone/mic jack
Connectivity: 802.11ac Wi-Fi, Bluetooth 4.0
Camera: Two 5MP webcams (1080p HD video)
Weight: 1.76 pounds
Size: 7.93 x 11.5 x 0.36 inches (W x D x H)
READY FOR PICKUP AT PCS TODAY!! Come in, we're waiting for ya!
PLEASE CALL (607) 433-7272 OR STOP IN AT 387 CHESTNUT ST.  FOR MORE DETAILS!